100 Club
---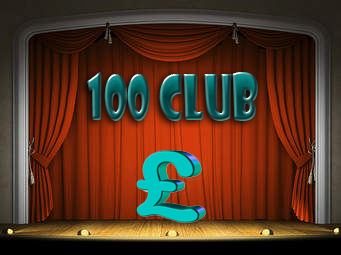 Welcome to the Rossendale Players monthly cash draw known as 'The 100 Club'. This is a fund-raising enterprise for the Players with a cash prize won by a ticket holder each month.
An annual ticket costs just £12 and will be entered into each draw, the prize fund for each month will vary according to the number of players but will be announced alongside the winning ticket number.
The monthly winner will be announced on this website and also shown with the play programmes.
Ticket renewal can be paid for by cheque made payable to 'The Rossendale Players' or via BACS transfer to the Rossendale Players account. Once allocated, members may retain their number for a further subscription year or elect to be allocated a fresh one, as available.
Funds raised contribute to the running of the theatre and production costs of our plays. Join today and help to keep the Rossendale Players productions in the spotlight!
Good luck!
Winners
---
The following list contains winner for the previous 6 months.
| Date | Amount | Number |
| --- | --- | --- |
| June 2020 | Pending | Pending |
| May 2020 | Pending | Pending |
| April 2020 | Pending | Pending |
| March 2020 | £25.00 | 23 |
| February 2020 | £25.00 | 94 |
| January 2020 | £25.00 | 101 |
Signup
---
It is not possible to enter on-line, you can however request to renew or join. A member of the theatre will be in contact with you shortly.
Join Our Mailing List
Get Involved
We're accepting new members, if you're interested, click here.